YLD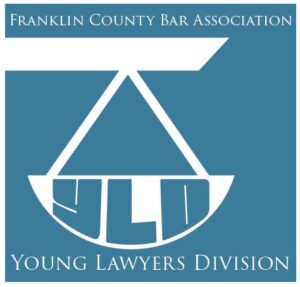 The Young Lawyers Division (YLD) of the Franklin County Bar Association (FCBA) is comprised of all lawyers who have been admitted to the practice of law for 5 years or less or who are 40 years old or younger. Lawyers who join the FCBA and meet the criteria automatically become members of the YLD without paying any additional dues. The YLD provides young lawyers with a means of gaining broader participation in bar committees, in bar activities and a way to socialize with colleagues of similar age.
Interested in learning more about the YLD? Call our executive director, Amelia Ambrose at 717-267-2032.
YLD events and meetings are open to all law students, recent graduates and attorneys interested in practicing in Franklin County.
YLD Officers

Victoria Beard is the YLD Chair for 2019. Ms. Beard is currently an attorney with MidPenn Legal Services under a grant from the Victims of Crime Act to provide legal services to those 60 and over who have been a victim of a crime. Ms. Beard is happy to be back in the area where she calls home. She is a graduate of Greencastle-Antrim School District and graduated from Shippensburg University. After graduation, Ms. Beard worked for the Franklin County Area Agency on Aging. In 2006, she began employment with the Commonwealth of PA as an inspector of personal care homes, ensuring compliance with state regulations by homes which take care of a vulnerable population. In 2010, Ms Beard became an Administrative Law Judge with the Bureau of Hearings and Appeals under the Department of Human Services conducting hearings on cases involving public benefits. During this time, she worked full time and attended Widener University Commonwealth earning her JD in December 2015 and subsequently passed the PA bar. In December 2016, she was inducted into the Franklin County Bar Association by J. Meyers. Ms. Beard continued as an ALJ until becoming an Attorney with MidPenn Legal Services where she continues to provide services to a vulnerable population.

Laken Lynch is the YLD Secretary for 2019. She is currently the Judicial Clerk for the Honorable Shawn D. Meyers. Originally from Mercersburg, Laken graduated from the Mercersburg Academy in 2011. She received her B.A. from Boston College in 2015 and then attended Dickinson Law on a full scholarship. Laken intends to open a child advocacy focused solo practice upon completion of her clerkship.
Krystal MacIntyre is the Community Outreach Coordinator. She graduated from the Penn State Dickinson School of Law in Carlisle in 2010, and practiced in Harrisburg before joining DiLoreto, Cosentino & Bolinger, P.C., in 2014.
Nikki Sipe is the Law Day Coordinator. She has served as the Law Day Coordinator since 2015. Outside of the YLD, Nikki is a managing attorney for MidPenn Legal Services with her primary office in Chambersburg. She primarily practices family law and has been practicing in Franklin County since 2014. Nikki has served as a past YLD Chair. She is also on the FCBA Board of Directors as well as the Vice-President for the Franklin County Bar Foundation.

Alexandra Sipe is the Wills for Heroes Coordinator. Alexandra M. Sipe became a Partner in Maxwell Sipe Law Offices, LLC in Waynesboro in 2014, and is now the sole owner of the firm. She received her J.D. in 2013 from The Dickinson School of Law, Penn State University, and her B.A. in 2010 from Dickinson College. Ms. Sipe is active in the community sitting on the boards of Valley Community Housing Corporation as secretary, Waynesboro Daycare Center as president, and SpiriTrust Lutheran Life as a member, as well as participating in Waynesboro's Rotary Club. Ms. Sipe assists families with estate planning, estate administration, small business planning, and elder law. She specializes in supporting families through difficult life transitions.
YLD Activities and Events
The YLD is actively involved in the Franklin County community through various projects. The YLD participates annually in the Heart Walk, the Race Against Poverty and in Juror Appreciation Day. One of the most enjoyable events sponsored by the YLD each year is Law Day, which involves a mock trial with YLD members acting as prosecutors, defense counsel, defendant(s) and witnesses and middle school students acting as jurors.
The YLD also provides various ways for members to socialize with one another. The YLD meets the first Friday of every month at 12pm in the Cosentino Conference Room of the Law Library. Meetings usually last an hour and lunch is provided. The YLD also sponsors Happy Hours throughout the year and coordinates other activities such as attending a Hershey Bears Hockey game or joining a PBA Zone 3 caravan.
Wills for Heroes
The FCBA YLD held a Wills for Heroes clinic in June for the Franklin Fire Company. The Franklin Fire Company is a 100% volunteer fire fighter company that responds to hundreds of calls each year. We will be planning a WFH event for the fall. Please contact us for more information.
YLD Host Law Day in Courtroom One
The Young Lawyers Division of the Franklin County Bar Association celebrated Law Day with a Mock Trial for county youth on the first Friday of May each year. You can read about our last Law Day event on our News Page. Our next Law Day is Friday, May 1, 2020.