The Franklin County Bar Association celebrated the services of attorneys who donate their time providing civil legal services to low income individuals and families in Franklin County on Wednesday, October 27, 2021.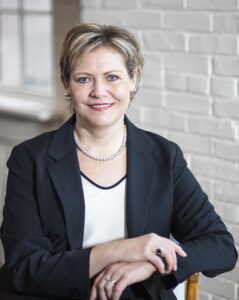 This year's celebration honored Lauren E. Sulcove with the 2021 Pennsylvania Bar Association Pro Bono Award. David Trevaskis, the Pro Bono Coordinator for the Pennsylvania Bar Association, presented the award. Ms. Sulcove is a partner at B&D Law Group, in Chambersburg, PA.
Andrew J. Benchoff, Franklin County Bar Association president, said "Since her move to private practice from the District Attorney's Office, Lauren Sulcove has consistently aided the public interest legal community in Franklin County, volunteering significant time to represent individuals on a pro bono basis who find themselves in need of a civil practitioner to escape injustice. Lauren has clearly gone above and beyond in serving those members of our community, who are sometimes the most vulnerable, finding themselves as the victims of abuse and in an unsafe environment. Lauren is most deserving of our annual Pro Bono Award for Pro Bono Service."
Gloria Keener, Executive Director of Franklin County Legal Services and Pro Bono Coordinator of the Franklin County Bar Association shared "In the past year, 31 matters have been accepted by Franklin County Bar Association pro bono attorneys. These matters have included divorce, will/power of attorney, protection from abuse, adult guardianship, estates, a lien matter, consumer lawsuit defense, a week-long office and hearing coverage for a legal services attorney and regular divorce consultations at a legal services office. All of this pro bono involvement addressed critical legal needs and helped individuals with legal issues affecting their basic needs. Our theme this year is about how hope grows when volunteers plant the seeds of justice. Yes, pro bono attorneys are the heart of our legal services community, and we are so grateful for the difference you make in the lives of others. When you plant a seed, it takes hard work. You have to get down in the dirt and do something where you can't see the end result at the time. But you do it with faith and in a hope that something beautiful will grow. For the clients, your hard work begins to grow a hope that they didn't know they could have. You may never know how the divorce you got for someone helped change their life, or the custody case you handled helped a child feel loved, how the PFA order saved a life, or how any type of legal work you did was a steppingstone to a brighter future. You may never know what a lifelong difference you made by showing up and using your talents to help someone at the time of their deepest need. Your pro bono involvement is launching someone into a life of hope. In due time, the seeds planted will have grown into a beautiful garden."
Deborah Dresser Neiderer, managing attorney of Law Offices of Women in Need, stated "Thank you again to all of the Attorneys of the Franklin County Bar Association who have dedicated countless pro bono hours year after year. Your willingness to represent vulnerable litigants guarantees them access to be heard in a meaningful way. Congratulations to Attorney Lauren Sulcove on garnering this years' pro bono award. Her commitment to serving survivors of domestic violence and sexual assault is truly commendable. The difference this pro bono work makes in the lives of our clients is immeasurable and we are grateful for the answer to our call."
The yearly celebration is held in conjunction with the Pennsylvania Bar Association and the American Bar Association Pro Bono Week. Pro Bono Week is an opportunity to highlight the differences lawyers make in their communities, to recruit and train more pro bono volunteers and to acknowledge the partnerships that form the basis for many of the private bar's most successful pro bono efforts.