The Franklin County Bar Association celebrated the services of attorneys who donate their time providing civil legal services to low income individuals and families in Franklin County on Friday, October 25, 2019. The FCBA Pro Bono luncheon was held at the Orchards Restaurant in Chambersburg.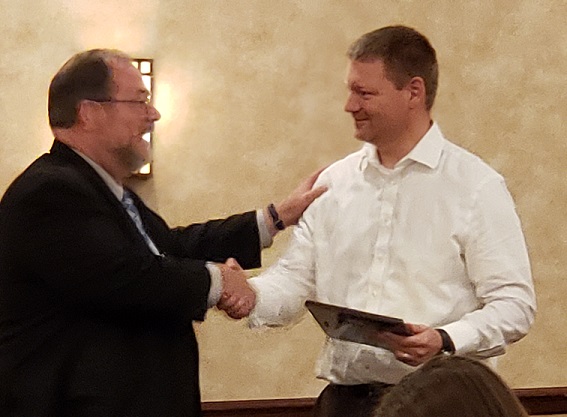 This year's luncheon honored Christopher L. Reibsome, of Christopher Reibsome Law, LLC, with the 2019 Pennsylvania Bar Association Pro Bono Award. David Trevaskis, the Pro Bono Coordinator for the Pennsylvania Bar Association, spoke about Christopher's work in Pro Bono "Christopher Reibsome is a very active participant in Franklin County Bar Association's Pro Bono Program. He has always been willing to accept more complicated matters, such as custody cases or difficult divorces. He has been an excellent resource to the legal services agencies in the community. Christopher has handled protection from abuse cases, custody cases, a child support matter, a will and estate matter, and divorces on a pro bono basis. Christopher's willingness to accept the difficult cases has resulted in maximizing the number of clients able to receive representation and preventing the pro bono program from turning away clients. Christopher has been a wonderful help to some of the most vulnerable individuals in our community. He has handled cases from the Law Offices of Women in Need. Christopher works well with the trauma that victims of domestic violence carry and has resolved a lot of matters on their behalf. He has made a lasting, positive impact in the lives of his clients and, through access to justice made possible by pro bono representation, has given his clients the ability to move forward in their lives."
Kristen Hamilton, Franklin County Bar Association president, said "It is with great pride that I can say Franklin County Bar Association members never fail in stepping-up to the plate when it comes to volunteering their time to pro bono cases through Franklin County Legal Services, MidPenn and Women in Need. Also, it is important to highlight that FCBA members offer pro bono services outside those referred through these avenues and without any recognition simply because it is the right thing to do. People outside of the legal community may not completely understand the impact this has, but it is substantial and allows us to provide access to justice, which I believe is our obligation as attorneys. I am so proud to be a part of the FCBA, to be surrounded by colleagues like Chris, who take the responsibility to this type of service to our community seriously and are willing to lead by example."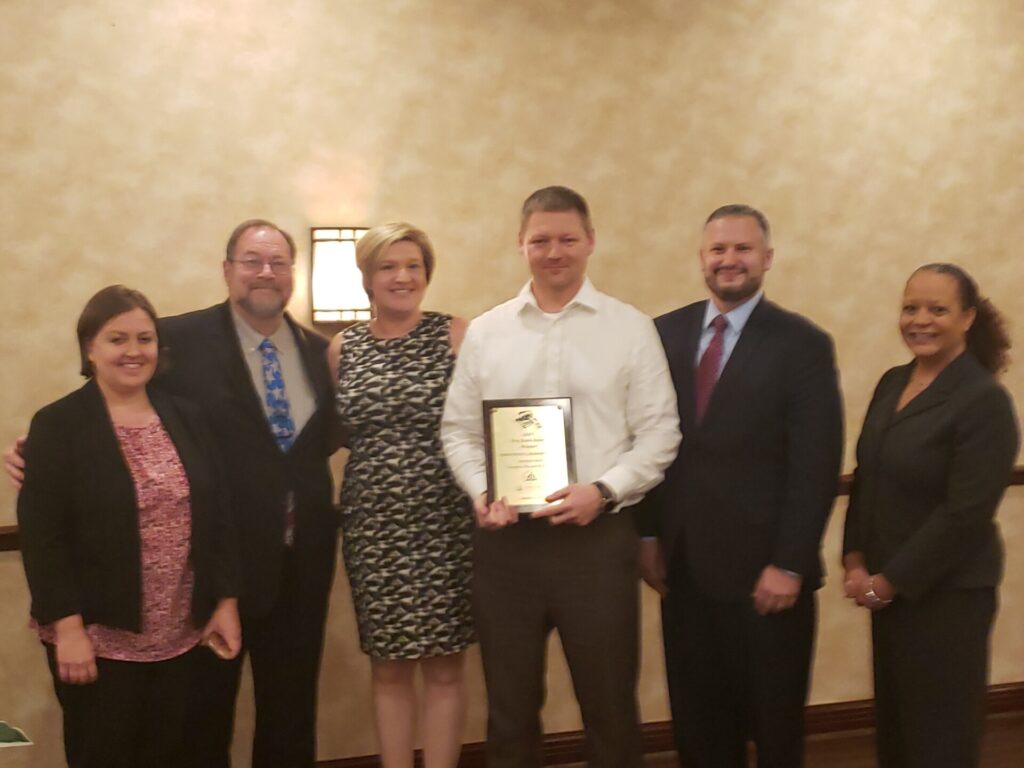 Paul Edger, managing attorney of MidPenn Legal Services, Deborah Dresser Neiderer, managing attorney of the Law Offices of Women in Need, and Gloria Keener, Executive Director of Franklin County Legal Services and Pro Bono Coordinator of the Franklin County Bar Association were all on hand to thank the members of the Franklin County Bar Association for volunteering their time and handling the pro bono cases in Franklin County. Gloria Keener shared "In the past year, 70 matters have been accepted by Franklin County Bar Association pro bono attorneys. These matters have included divorce, wills and power of attorney, bankruptcy, protection from abuse, custody, estates, adoption, standby guardianship, and driver's license suspension. All of these matters addressed a critical civil legal need and helped someone with a crippling aspect of their life. For example, several attorneys accepted custody cases of unaccompanied minors placed with guardians in Franklin County by the Office of Refugee Resettlement. Other pro bono attorneys represented domestic violence survivors in seeking protection from abuse and in complex divorce cases that helped individuals get back on their feet financially. Civil legal problems affect basic human needs and attorneys are the vital link to having those critical needs met. Pro Bono attorneys are real life-savers to people facing serious legal problems, and we thank them for the time they volunteer to help those in need."
Paul Edger, managing attorney of MidPenn Legal Services, said "On behalf of MidPenn Legal Services, we are extremely grateful to the attorneys who graciously volunteered their time and resources to help our most vulnerable citizens in Franklin County by accepting a case pro bono, and continue to volunteer to this day. By these attorneys giving a few hours of their valuable time, they are providing the clients with life-changing opportunities in the most dire of situations. Assisting individuals in preserving their homes, keeping their family safe, and assisting clients with their employment benefits not only the clients and the community as a whole, and for that, we thank all of these attorneys."
The yearly luncheon is held in conjunction with the Pennsylvania Bar Association Pro Bono Week. Governor Wolf issued a proclamation designating October 20 – 26 of 2019 as Pro Bono Week in Pennsylvania and stated "I encourage all Pennsylvanians to recognize and appreciate the dedication and contributions of these law professionals to enhancing the lives of their clients, and to support pro bono legal work in their communities." Pro Bono Week is an opportunity to highlight the differences lawyers make in their communities, to recruit and train more pro bono volunteers and to acknowledge the partnerships that form the basis for many of the private bar's most successful pro bono efforts.