The Pennsylvania Bar Association (PBA) Real Property, Probate and Trust Law Section presented its inaugural Trailblazer Award to Franklin County attorney Alexandra M. Sipe, Maxwell Sipe Law Offices LLC in Waynesboro, at an awards breakfast on May 17 during the association's Annual Meeting in Lancaster.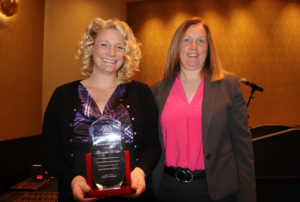 Instituted in 2019, the section created the Trailblazer Award to annually recognize young lawyers practicing in the real property and probate and trust areas of law. Honorees must demonstrate excellence in the practice of law, professionalism through bar association activities and a commitment to pro bono legal services.
Sipe is being recognized for her unique skillset that combines the highest ethical standards and legal knowledge with personalized client service, while managing the day-to-day activities at her firm. Since joining the firm as a law clerk in 2012, she has been assisting families with estate planning, estate administration, small business law and elder law. With a focus on high net-worth clients, she has successfully handled complex, contested matters with diligence and professionalism.
A member of the Franklin County Bar Association Young Lawyers Division, Sipe serves as the association's Wills for Heroes coordinator. Wills for Heroes, a statewide pro bono project of the PBA Young Lawyers Division, offers free basic estate planning documents for first responders, military veterans and their spouses. Since Sipe took over the local program in 2016, Franklin County Bar Association has held three events, with two more in the planning stages.
In addition, Sipe is a member of the Pennsylvania Bar Association Real Property, Probate and Trust Law, Solo and Small Firm and Elder Law sections, as well as the Commission on Women in the Profession. Sipe is also a member of the Cumberland County Bar Association, Estate Planning Council of Central Pennsylvania and South Central Pennsylvania Estate Planning Association.
Active in her community, Sipe belongs to the Rotary Club of Waynesboro and serves on the Mainstreet Waynesboro, Waynesboro Day Care and Valley Community Housing Corp. board of directors.
Sipe received a B.A. from Dickinson College in 2010 and graduated from Penn State University Dickinson Law in 2013.
Founded in 1895, the Pennsylvania Bar Association strives to promote justice, professional excellence and respect for the law; improve public understanding of the legal system; facilitate access of legal services; and serve the lawyer members of the state's largest organized bar association.